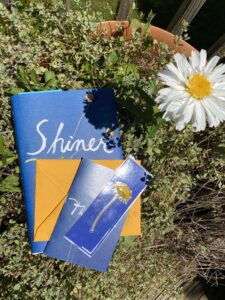 I discovered Shiner by Amy Jo Burns when I saw the novelist's posts on Instagram. Here we were, entering a shelter-at-home pandemic, and she had a book about to launch. The world was topsy-turvy. It still is. Her book tour was canceled. Like the rest of us, she was entering uncharted territory, with her baby, her first novel.
I ordered a copy from my local indie bookseller, and Amy sent me a homemade bookmark. I'm smitten. The novel is so good. It's one of those books where you get fifty pages from the end, and you just don't want it to end. You read a few pages and then plough through when you can stand it no longer.
Shiner is an incredible novel about two generations of Appalachians, about family, friendships and myth-making. The novel's protagonist Wren is a teenage girl on a quest to find out the truths that have been kept from her. In order to learn the truth, she has to confront her father, a man larger than life, a preacher who survived a lightning strike, who feels God in his bones, who can work miracles, and who tries to kill her.
As the main character Wren tells us at the start of the story: "Beyond these hills my people are known for the kick in their liquor and the poverty in their hearts. Overdoses, opioids, unemployment. Folks prefer us this way–dumb-mouthed with yellow teeth and cigarettes, dumb-minded with carboys of whiskey and broken-back Bibles. But that's not the real story. Here's what hides behind the beauty line along West Virginia's highways: a fear that God has forgotten us. We live in the wasteland that coal has built, where trains eat miles of track. Our men slip serpents through their fingers on Sunday mornings and pray for God to show Himself while our wives wash their husbands' underpants."
I had the privilege and pleasure to ask Amy a few questions about this riveting tale: Enjoy!
The relationships between Ruby and Ivy and Briar and Flynn are so close and complex, were these friendships based on your own or inspired by people you know?
Thank you so much for saying that. These relationships definitely came from my imagination, though they've been with me for so long that these people feel like my family! I tried to give each of the characters a true piece of me–maybe a fault or an aspiration of mine–in addition to a few small details from people I know.
The relationships between these characters came to me first, in addition to the setting of the novel, and the rest of the story came from there. So much of what we do in life is determined by who or what we love, and I wanted that to be true for the characters in Shiner, too.
The setting of the novel is so paramount to the story, are you from West Virginia? What inspired you to write about this area, mining, "taking up serpents," and moonshining?
I grew up in northern Appalachia, though not as isolated as the characters in Shiner, and I camped in West Virginia in the summers when I was a teenager. The landscape there really imprinted itself on me–there's nothing like it in the world. Everywhere you go, the creeks and mountains and caves are telling a story. I think I've always wanted to listen in on those tales and tell my own from them.
I also wanted to write about what it means to have faith–and for some people that might mean taking up serpents, for some it might mean laying down your life for your friend, and for still others it might mean making moonshine. Who's to say one kind of faith is more authentic than the other? I wanted to play with the idea of where real danger, and real miracles, truly lie–and it's never in the place you expect.
As a child, I experienced day-long, born-again church gatherings with a friend. Was this a part of your personal upbringing?
Oh, yes. This kind of faith (though not snake-handling specifically) was a huge part of my upbringing and the way I first saw the world. So often it's painted kind of snidely in literature, and I wanted to write about the breadth of it instead–the holy parts, the misguided pieces, the sacredness of that kind of devotion, and even at times the violence done in the name of religion. I think to paint it authentically you have to show all those fault lines between religion and faith and have characters reckon with finding the truth of God in the fissures between them.
"True Story," the opening of the novel, is gripping and foreboding. Did you know the novel's ending before its beginning or did "True Story" come after you'd discovered the ending?
I never know where a story is heading when I start it–which is a frustrating way to work, but it's the only way that works for me! This is why it's such a long process, but also surprising–which I think is great for a reader. It was only after I'd written the whole thing that I could see it from a kind of global perspective. "True Story" was the last part of it I wrote before the book went out on submission. Often the things I write last become my favorite parts of the book.
I love the distinction between "snake-handling" and "taking up serpents." can you extrapolate on the meaning and inspiration?
"Snake-handling" is a term only outsiders use to describe the act that followers of this kind of faith refer to as "taking up serpents." The act references a verse in the chapter of Mark that says, "they will take up serpents; and if they drink anything deadly, it will by no means hurt them; they will lay hands on the sick, and they will recover." It's a way of worship and practicing one's faith, and for a small number of people it's a way of life, I think.
I wanted to write about both "snake-handling" and "taking up serpents" because I think a big part of identity comes in how we describe ourselves, versus how the rest of the world sees us. Everyone in the novel is struggling with the labels that have been forced on them and who they might be if they weren't trapped by those terms–for example, the preacher's wife, the snake handler's daughter, the moonshiner. The novel is really about the true story behind the story, and often those stories come from how we see ourselves.
I think this is partly inspired by my own experience of growing up in a place that has a lot of labels and stereotypes. It was only once I left western Pennsylvania that I heard terms like "Appalachia" or the "Rust Belt." It was so weird to see how the outside world had defined us, and in some ways, written us off. So I wanted to write a book about people who felt forgotten and misunderstood, and ultimately refused to be written off at all.
Spoiler Alert: If you haven't read Shiner, the next questions might ruin the ending for you.
6. Did you struggle with whether or not Ruby would die, or did you always know that she would have to die?
I always knew she would die. That sounds so heartless! Please know how much I love Ruby with all my heart. But I knew from the beginning that this would be a book about the price women pay for men to celebrate their own false legends. But in my mind, Ruby is alive. That's one of the great things about being the author–all the moments in the book exist at the same time in my mind–so when I think of Ruby, I don't think of those quick final moments. I think of her at the creek with Flynn, or sitting on a mountain top and looking over the valley with her best friend. To me, her heart still beats with a lot of strength.
Did you struggle with how things would turn out for Wren or did you always imagine her staying on the mountain?
When I started writing the book, I knew I wanted to write a kind of coming-of-age where the main character actually gets to claim the home she's always known. It's different kind of story than leaving home or returning home. I loved the idea that Wren gets to tell her own stories, and through that, she brings change to her mountain. So often we think of escape as the answer, but truthfully geographic mobility isn't always an option for a lot of different reasons. I wanted to celebrate the rich realization that "home" is something you can take with you, and it never means you don't love your home if you decide to leave. It just means you always have a place–or a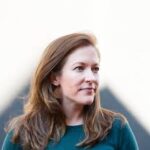 person–to return to.
Find Amy at www.amyjoburns.com
Twitter: @amyjoburns
Instagram: @burnsamyjo